Pinocytosis and exocytosis
A lot of molecules essential to life are too large to simply cross the plasma membrane, or even pass through protein channels embedded within. The way these are transported is by being enveloped in lipid bubbles that join with the main membrane and open up to release the content to the other side of the membrane (pinocytosis – a form of endocytosis). Conversely, a bubble, called vesicle, already in the cytoplasm can merge with the plasma membrane and release its content on the outside (exocytosis). This process does use energy (ATP, see next headings).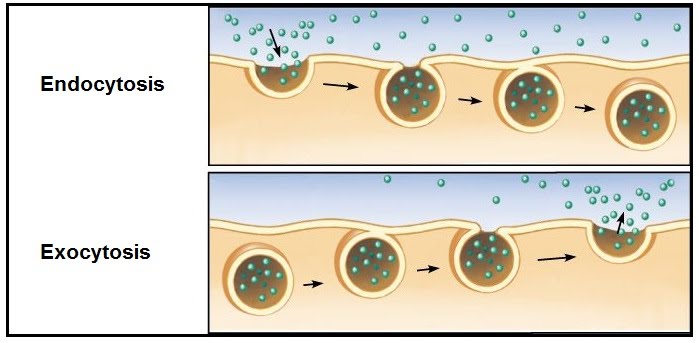 Pinocytosis and exocytosis are reverse processes, involve the fusion of vesicles with the plasma membrane, and transport large amounts, hence being methods of bulk transport.
Endocytosis refers to any generic process of forming a vesicle on the inside of a cell, while pinocytosis is the specific case when these vesicles go on to fuse with lysosomes so that their contents get hydrolysed by enzymes inside the lysosomes.
Phagocytosis
White cells (the most common ones are neutrophils) engulf any foreign particles such as dust or bacteria, then digest them and dispose off of the remains. It's badass, trust me. I've got proof:
The enzymes used to break invaders down are lysosomes which fuse with the vesicle which contains the bacteria. All this action happens within the white cell. At the end, the undigested leftovers are disposed off of by exocytosis (kind of like a burp).
Active transport
Unlike diffusion, osmosis and facilitated diffusion, active transport requires energy in the form of ATP (adenosine triphosphate), and moves substances against a concentration gradient (from a lower concentration to a higher concentration). This process is essential in removing of all toxins from the body, as well as the movement of rare chemicals.
Active transport is achieved by specific carrier proteins in the plasma membrane, and relies on adequate oxygen supply (which results in ATP being available). Here's a quick video that shows the process:
There are certain cells which carry our active transport more than others, for example in the kidney. These cells have special adaptations, such as microvilli for increased surface area, hence more carrier proteins available, as well as many mitochondria for the production of ATP.
ATP and ADP
As I write this I am absolutely knackered which is juuuuuuuuust hilarious as I am about to cover ATP! Adenosine triphosphate is a small molecule whose constant breaking down and putting back together reactions form the basis of our biological processes which require chemical energy.
As for many of the different other chemicals that we have covered such as carbohydrates and nucleic acids, these ATP reactions are condensation and hydrolysis.
However, here we are not talking about monomers forming polymers or polymers breaking back into monomers. We are talking about adenosine triphosphate breaking down into adenosine diphosphate, inorganic phosphate and energy; and the latter joining back together to make adenosine triphosphate again.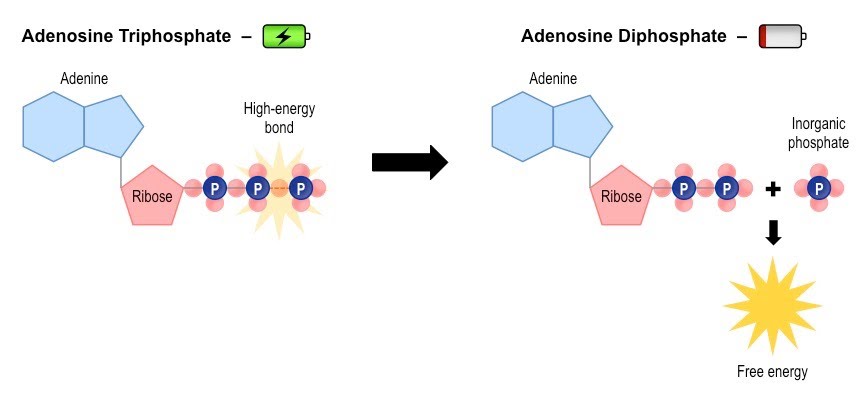 When the hydrolysis of ATP (via the enzyme ATP hydrolase) is coupled to other reactions requiring energy, it enables these processes to take place. The inorganic phosphate released can itself take part in a further phosphorylation reaction with another chemical, often increasing its reactivity.
The condensation of ADP and inorganic phosphate takes place during photosynthesis and respiration, and is catalysed by the enzyme ATP synthase. Because it synthesises ATP. Get it get it.
Cyanide toxicity
Cyanide is highly poisonous because it binds the iron in a protein which is part of the electron transport chain. The ETC is a central part of cellular respiration which creates more ATP.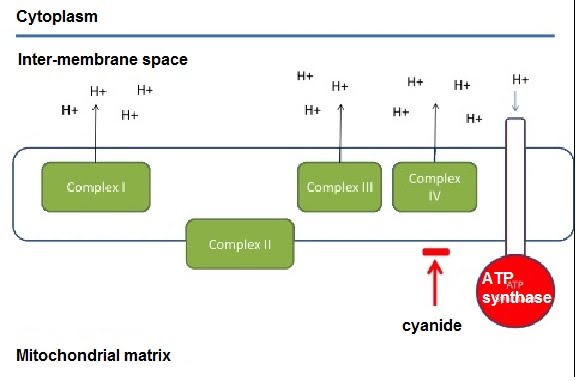 Electrons flow from Complex I through Complex IV, enabling the activity of the enzyme ATP synthase which makes ATP. Any interruption of the flow, such as by cyanide at the point of Complex IV, compromises ATP synthase.
As ATP production is interrupted, the energy currency of cells is compromised, and key processes including active transport which rely on ATP cannot continue. Tissues that are highly ATP-dependent, such as the brain and the heart, are the first to suffer in such a situation.
Ok byeeeee