Succession
Succession is the process by which this: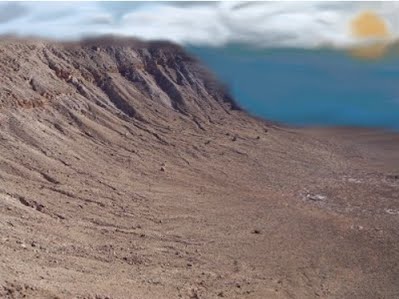 …turns to that: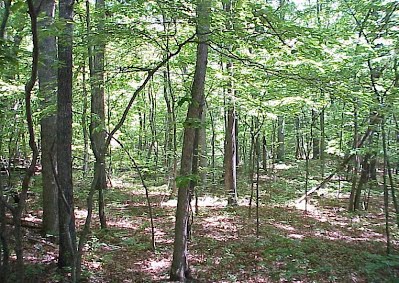 It may be classified as primary succession or secondary succession. The difference is that the above is primary i.e. it begins with totally barren land devoid of any nutrients or other abiotic factors (water, wind, temperature) conductive to life thriving, while secondary succession occurs after an already-thriving community has been wiped out by natural disasters such as a wild fire.
Why make the distinction? In secondary succession, although it may look like all life is gone, the conditions needed for it to begin again more readily than in primary succession are there: plant seeds, plenty of nutrients in the soil and plant waste all contribute.
Let's look at succession in more detail.
1. Pioneer species colonise the harsh land – since the conditions are extremely unfavourable for most larger organisms to develop and thrive here, only the most resistant species will grow after their seeds have been dispersed to reach this place.
2. Tolerant species take over once the pioneers have died and enriched the soil with more nutrients than previously. This progresses from small plants to shrubs and bushes, and eventually trees. Throughout the succession new opportunities for food and shelter attract diverse animals to the community.
3. Climax community – this is the "steady-state" final community which is characterised by a diverse range of interdependent biotic and abiotic factors. No new species overtake the established ones, and any new plants and animals are descendants of the same species present beforehand.
It is the climax community that, if destroyed, presents an opportunity for secondary succession.

There are various types of climax community based on how stable they are, and which factors are contributing to any instabilities. The theoretical climatic climax is a single community solely maintained in its climax state by the climate. The soil is presumed to be stable enough not to affect the species beyond the climate. The long period in succession leading up to a climax community is called subclimax.
The edaphic climax is an actual type of community where multiple climax areas exist, based on the shifts in several factors including soil, landscape, fire, water and animal activity. These fluctuating factors are preventing the idealistic climatic climax to be established.
Catastrophic climax, as its name suggests, refers to a community that is often prone to catastrophe such as wild fires. The climax species are destroyed, and the intermediary species re-establish after each catastrophic event.
Disclimax (disturbance climax) occurs when the natural climax is prevented by the activity of humans or domesticated animals. Animal grazing can, in excess, encourage a more desert-like community as opposed to the grassland that would otherwise thrive in the absence of the excessive grazing.
Finally, pre/postclimax refers to areas of a climax community where species are different to what they should be, even when the climate is the same in those areas. Preclimax refers to the areas where species are a level behind in succession (usually if the climate is dry and hot), while postclimax refers to the areas where species are a level ahead in succession (in climate that is more moist and cool).
The knowledge we can derive from succession enables the conservation and maintenance of different habitats.
Abiotic Factors
Non-living factors such as light intensity, temperature and humidity determine the number of organisms that a habitat can sustain. All species have a varying degree of ability to withstand harsh or fluctuating conditions, called resilience. If an abiotic factor changes dramatically in favour of a population – for example, plenty more light in a field – then the population will increase provided no other factors are limiting. The opposite is true if an abiotic factor changes against the resilience limit of a population – it will decrease.
Biotic Factors
"Living factors" refer to all interactions between organisms, be it a bunny rabbit being predated, or two shrubs competing for sunlight. All individual actions between organisms form a web which impacts on all populations in an ecosystem, therefore determining their sizes.
Interspecific competition refers to competition between members of different species for the same resources (food, light, water. etc.). Often when a new species is introduced in a habitat, say the American ladybird to the UK, if the invader species is better adapted, then the host population decreases in size. This may lead to extinction in some cases of the host species.
[Can't remember the difference between
inter
specific and
intra
specific?
Inter
specific is like the
inter
net –
different
things come together.]
Intraspecific competition refers to competition between members of the same species. If a population of apple trees all compete for a source of light, then each apple tree is taking up some light that has now become unavailable to a different apple tree. There are only so many apple trees which that habitat can sustain. The maximum population size sustainable indefinitely in a habitat is called the carrying capacity.
Predation
Suppose you start off with equal populations of wolves and rabbits, and all the wolves rely on the rabbits for food. As the wolves start predating the rabbits, the rabbit population will decrease, while the wolf population will be sustained. Now there are fewer rabbits, so some wolves won't have any food left. These wolves will die, so the wolf population will decrease. What will happen to the rabbit population now? Well, there are fewer wolves so they are predated less. The rabbit population will increase, followed by an increase in the wolf population, and so on.
The predator-prey relationship is very intricate, so the two affect each other and hence their population sizes rise and fall accordingly.