Energy transfer and its efficiency
As seen previously, plants produce a great deal of energy which is used up increasingly at every trophic level. This is the basis on which decisions are made in agriculture and rearing of domestic livestock.
In the wild, both plants and animals are subject to a lot of energy loss due to pests, physical activity or insufficient nutrients. This results in a relatively inefficient flow of energy between trophic levels. We think of this in terms of net productivity.
Net productivity is equal to gross productivity minus respiratory loss.
In both terms, productivity refers to the amount of leftover useful tissue such as cereals or animal flesh.
Gross primary production (GPP) is the chemical energy stored in plant biomass in a specific area or volume, while net primary production (NPP) is the chemical energy store in plant biomass after accounting for respiratory losses (R) to the environment.
This gives NPP = GPP – R
NPP can end up in plants' own growth and reproduction or it can be taken up by herbivores and decomposers.
Consumers such as animals have their own net production termed N which becomes equal to:
N = I – F + R, where
I = chemical energy stored in Ingested food
F = chemical energy lost to the environment in Faeces and urine (stay classy)
R = chemical energy lost in respiration
The rates of productivity for primary and secondary production respectively are primary and secondary productivity. These can be expressed as energy per area per time, e.g. kJ ha-1 year-1, which is kilojoules per hectare per year.
As opposed to the wild, in human-made growth environments this respiratory loss is kept as low as possible. Extreme measures are taken to achieve this, which include:
1. The use of chemical pesticides and biological agents to kill all or certain organisms which may infect or feed on plants e.g. insects, fungi, small animals
2. Intensive rearing of animals which includes keeping them indoors and in confined spaces to prevent their energy being lost on movement; and administering antibiotics to prevent mass spread of infection
To enhance plant growth fertilisers are used, whether natural (manure) or artificial.
A strategy to maximise net productivity is an integrated system. Put simply, this is a self-contained nutrient recycling approach which involves using manure as plant fertiliser, and leftover plant "waste" as additional feed for animals.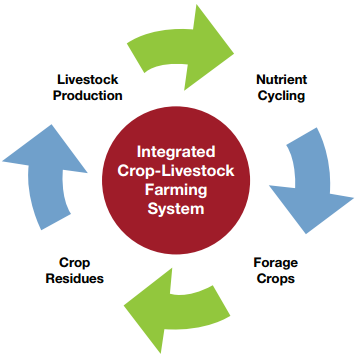 There are many issues (economical, social, ethical) surrounding intensive farming across the globe. Here are a few:
1. Prioritising land – since so much energy is inherently wasted every time plants are used for anything else apart from direct eating by us, it is both an economical and social issue to decide whether so much land should be used for plants grown simply to feed animals which then pass on a tiny fraction of energy onto us; for plants grown to produce biofuel rather than food for us; or for plants grown to end up straight onto our plates so that the energy they pass on is maximised.
2. Controlling the effects of chemicals – artificial compounds used en masse such as antibiotics and pesticides can have far-reaching impacts. For example, if fertilisers leak underground and are transported to a distant lake, they will result in an algal bloom which will cover the entire surface of the lake. All organisms living below will eventually be starved of oxygen and nutrients and die, while other species may colonise the lake and shift the flora and fauna of the area, causing a cascade of events that will radiate outwards.
3. Drawing ethical boundaries – intensive rearing of livestock comes with an array of ethical issues. The range includes forced growth using hormones, captivity in crowded conditions, mass murder for meat, mass torture for cutting off the beads of chicks, and enhancing bacterial resistance by the mass use of antibiotics preventively.
Nutrient recycling by microorganisms
Microorganisms play a key role in the recycling of many nutrients within an ecosystem. They make available many elements such as nitrogen and phosphorus which are essential to life, once they become "locked" into certain chemicals. Often, these would not be broken down into their elements to become available again, were it not for the special chemical reactions carried out by microorganisms in the soil.
Carbon
Plants take up atmospheric CO2 to photosynthesise: the carbon in CO2 is transferred to the carbon in glucose.
This carbon in glucose is either respired by the plant itself and released as CO2 back into the atmosphere, or is passed on to animals eating the plants. Here, it either gets released back as CO2 in respiration or becomes manure.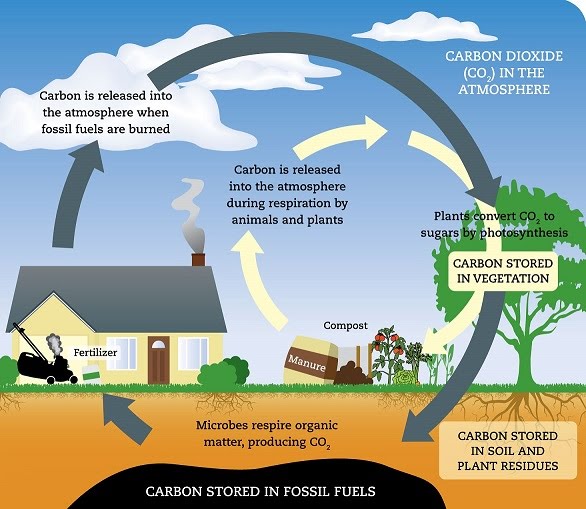 But eventually, all the carbon not quickly released back into the atmosphere as CO2 will end up in the ground, for microorganisms to decompose.
Saprobiotic* bacteria can assimilate organic waste (all of which is made of carbon) and use it for their own respiratory needs. This in turn produces CO2 or methane gas, depending on species. Both gases get released into the atmosphere from where plants take CO2 up again for photosynthesis, restarting the cycle.
*Externally digesting… kinda like someone chewing your food for you.
Nitrogen
Nitrogen is an important element in organisms, taking part in one of their most important building blocks – amino acids. That's not to mention DNA itself…
In the nitrogen cycle there are two stages of N presence: the atmosphere and the ground. Whenever N is in the atmosphere it's in the form of nitrogen gas, N2 which of course is what most of the air is made of. In the ground, N is found in ammonia (NH3), nitrite (NO2-) and nitrate (NO3-).
Find it hard to distinguish the formulae for nitrite and nitrate? Needn't be! A is large (3-) and i is little (2-), former's nitrate, latter nitrite.
Both nitrogen-fixing bacteria and lightning can take the nitrogen gas in the air and fix it into the soil, where plants take it up (nitrate assimilation) and pass it on through the trophic levels to other organisms. Mycorrhizae are symbiotic associations between fungi and plant roots which benefit the fungus in terms to access to carbohydrates, and benefit the plant by improving nutrient uptake from the soil.
This is especially beneficial to plants in nutrient poor soil. Fungi may be able to better extract nutrients such as nitrogen from the soil on behalf of the plant due to a smaller diameter of protruding extensions that can explore more soil as well as being able to chemically bind target nutrients.
Upon their death, saprobiotic bacteria decompose the remains and produce ammonia which then undergoes nitrification to NO2- and NO3- by nitrifying bacteria.
Denitrifying bacteria turn the N in nitrates into nitrogen gas again, so the cycle may begin once more!
Summary: nitrogen fixation –> assimilation –> ammonification –> nitrification –> denitrification
Phosphorus
Phosphorus is an essential element present in DNA, ATP, etc. and originates from the Earth's rocks which slowly erode into water bodies.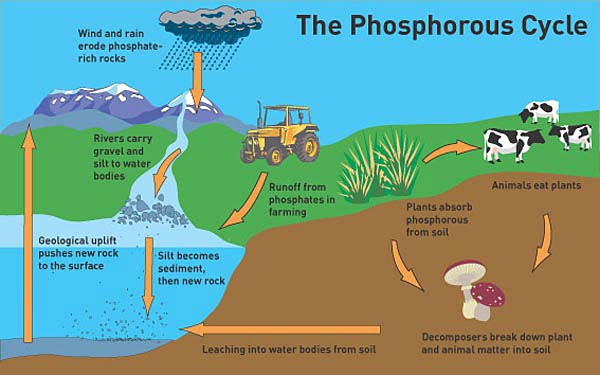 Thereon, it is absorbed through the water plants use in their photosynthesis, and becomes part of their biomass which can be spread via ingestion to organisms higher up the food web.
Phosphorus makes its way back into the soil and later into water bodies through the action of decomposers which break down the plant and animal matter. Since phosphorus is present in fertilisers used to supplement plants, this too is subject to running off into bodies of water.
Finally, a phenomenon known as geological uplift shifts rocks from the water bodies back up into landmass.