In eukaryotes, epigenetics refers to the heritable changes in gene function that do not involve any change to the DNA sequence. This underpins an embryo's ability to differentiate its cells into specialised lineages for different organs and tissues in the adult: skin tissue, muscle tissue, nervous tissue, etc.
Transcription can be inhibited by specific means. A common way is increased DNA methylation. The methyl (CH3) group acts as a tag on the DNA at various locations and prevents transcription that might've occurred otherwise.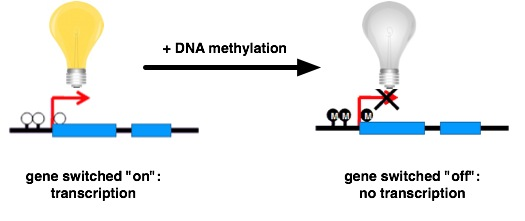 Another chemical modification that can induce epigenetic effects and control gene expression is histone deacetylation. Histones hold the DNA chromatin and help to compress it. In its acetylated state, it is relaxed and the DNA can be accessed by transcription machinery.
Deacetylation results in the tightening of chromatin around the histones, no longer making…