What is a population? A population is all the individual organisms found in a given habitat, of one species. So you could talk about a population of wolves in the woods. If you want to talk about the wolves and rabbits in the woods, then you'd be referring to a community. A community is made up of the various populations in a habitat. So the summation of all the living things in a given area is called a community. What then is an ecosystem?
An ecosystem comprises the community of living organisms in a habitat, together with all the non-living components such as water, soil, temperature, etc. called abiotic factors.
Why are different organisms of different species able to coexist in the same habitat? How come they don't directly compete with one another and drive others out? Have a watch…
So that's the last and loveliest new term: niche. It rhymes with quiche. A niche is the interaction, or way of life, of a species, population or individual in relation to all others within an ecosystem. It's how it behaves, what it eats, how it reproduces, where it sleeps, etc.; a species' niche is determined by both biotic factors (such as competition and predation) and abiotic factors.
Different things may determine the population sizes within an ecosystem.
Abiotic Factors
Non-living factors such as light intensity, temperature and humidity determine the number of organisms that a habitat can sustain. All species have a varying degree of ability to withstand harsh or fluctuating conditions, called resilience. If an abiotic factor changes dramatically in favour of a population – for example, plenty more light in a field – then the population will increase provided no other factors are limiting. The opposite is true if an abiotic factor changes against the resilience limit of a population – it will decrease.
Biotic Factors
"Living factors" refer to all interactions between organisms, be it a bunny rabbit being predated, or two shrubs competing for sunlight. All individual actions between organisms form a web which impacts on all populations in an ecosystem, therefore determining their sizes.
Interspecific competition refers to competition between members of different species for the same resources (food, light, water. etc.). Often when a new species is introduced in a habitat, say the American ladybird to the UK, if the invader species is better adapted, then the host population decreases in size. This may lead to extinction in some cases of the host species.
[Can't remember the difference between
inter
specific and
intra
specific?
Inter
specific is like the
inter
net –
different
things come together.]
Intraspecific competition refers to competition between members of the same species. If a population of apple trees all compete for a source of light, then each apple tree is taking up some light that has now become unavailable to a different apple tree. There are only so many apple trees which that habitat can sustain. The maximum population size sustainable indefinitely in a habitat is called the carrying capacity.
Predation
Suppose you start off with equal populations of wolves and rabbits, and all the wolves rely on the rabbits for food. As the wolves start predating the rabbits, the rabbit population will decrease, while the wolf population will be sustained. Now there are fewer rabbits, so some wolves won't have any food left. These wolves will die, so the wolf population will decrease. What will happen to the rabbit population now? Well, there are fewer wolves so they are predated less. The rabbit population will increase, followed by an increase in the wolf population, and so on.
The predator-prey relationship is very intricate, so the two affect each other and hence their population sizes rise and fall accordingly.
Quadrats
Sampling of organisms must be like those annoying, attention-seeking Snapchat friends. It must be random. Random sampling can be carried out using quadrats. If you're wondering what they are, look no further – they're squares.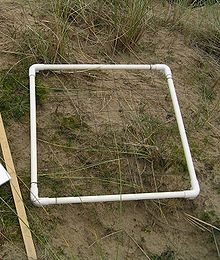 How would you make sure that your sampling is random? In a field, you could lay two long tapes perpendicularly to define the limits of the area where the samples will be taken from.
As you can see above, a tape is laid on one side of the sampling area. As you can't see above, another tape is laid from one end of the first tape, across on the adjacent side of the sampling area (like a giant L). Then two random numbers are generated using a random numbers table. These numbers are used to determine the coordinates of the first quadrat placed on the field, by matching them on the two tapes. And voila! You have yourself a system for random sampling using quadrats.
Transects
Transects are tapes (like above) placed across an area which has some form of gradient caused by abiotic factors which directly determines the distribution and abundance of the organisms present. For example, a beach is not suited for random sampling because there are clear zones ranging from the low population zone near the sea, to the more densely inhabited areas further up the shore. In this case the best way of obtaining useful data is by systematic sampling.
After placing the tape across the shore, place quadrats at set intervals such as every 5 metres, then take your data down.
Mobile Species
Mobile species such as shrimps can't be counted by the quadrat method. Instead, they are investigated using the mark-release-recapture method. This is something I personally did on my field trip for A level:
1. Capture shrimps using nets and count them.
2. Mark them by nipping half their tail diagonally (not proud :D)
3. Repeat, ensuring to account for the marked shrimps.
The more marked individuals you get, the smaller the total population is likely to be.
Succession
Succession is the process by which this: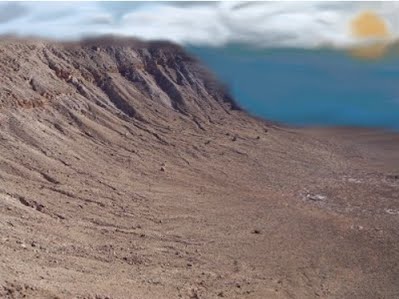 …turns to that: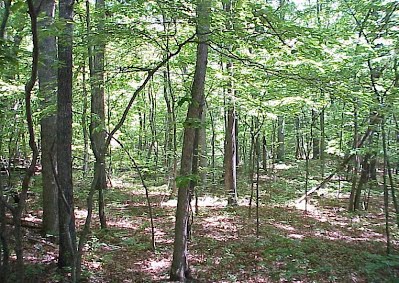 It may be classified as primary succession or secondary succession. The difference is that the above is primary i.e. it begins with totally barren land devoid of any nutrients or other abiotic factors (water, wind, temperature) conductive to life thriving, while secondary succession occurs after an already-thriving community has been wiped out by natural disasters such as a wild fire.
Why make the distinction? In secondary succession, although it may look like all life is gone, the conditions needed for it to begin again more readily than in primary succession are there: plant seeds, plenty of nutrients in the soil and plant waste all contribute.
Let's look at succession in more detail.
1. Pioneer species colonise the harsh land – since the conditions are extremely unfavourable for most larger organisms to develop and thrive here, only the most resistant species will grow after their seeds have been dispersed to reach this place.
2. Tolerant species take over once the pioneers have died and enriched the soil with more nutrients than previously. This progresses from small plants to shrubs and bushes, and eventually trees. Throughout the succession new opportunities for food and shelter attract diverse animals to the community.
3. Climax community – this is the "steady-state" final community which is characterised by a diverse range of interdependent biotic and abiotic factors. No new species overtake the established ones, and any new plants and animals are descendants of the same species present beforehand.
It is the climax community that, if destroyed, presents an opportunity for secondary succession.

The knowledge we can derive from succession enables the conservation and maintenance of different habitats.