Introduction




Nitrogen




Nitrogen-fixing bacteria and lightning




Mycorrhizae




Saprobiotic bacteria




Denitrifying bacteria




Summary
---
Introduction
Nitrogen is an important element in organisms, taking part in one of their most important building blocks – amino acids. That's not to mention DNAitself…
Nitrogen
In the nitrogen cycle there are two stages of N presence: the atmosphere and the ground. Whenever N is in the atmosphere it's in the form of nitrogen gas, N2 which of course is what most of the air is made of. In the ground, N is found in ammonia (NH3), nitrite (NO2-) and nitrate(NO3-).
Find it hard to distinguish the formulae for nitrite and nitrate? Needn't be! A is large (3-) and i is little (2-), former's nitrate, latter nitrite.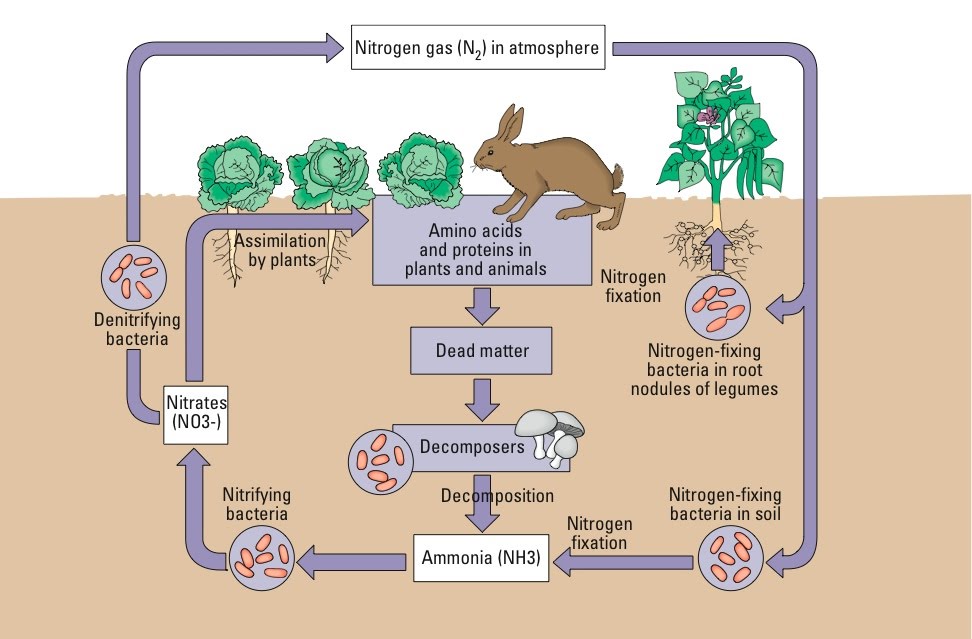 Both nitrogen-fixingbacteria and lightning can take the nitrogen gas in the air and fix it into the soil, where plants take it up (nitrate assimilation) and pass it on through the trophic levels to other organisms.
Mycorrhizae
Mycorrhizae are symbiotic associations between fungi and plant roots which benefit the fungus in terms to access to carbohydrates, and benefit the plant by improving nutrient uptake from the soil.
This is especially beneficial to plants in nutrient poor soil. Fungi may be able to better extract nutrients such as nitrogen from the soil on behalf of the plant due to a smaller diameter of protruding extensions that can explore more soil as well as being able to chemically bind target nutrients.
 Saprobiotic bacteria 
Upon their death, saprobiotic bacteria decompose the remains and produce ammonia which then undergoes nitrification to NO2- and NO3- by nitrifying…