The nervous system processes information throughout the body by carrying signals between the central nervous system (CNS) and peripheral nervous system (PNS). The CNS is composed of the brain and spinal cord, while the PNS consists of nerves which are connected to the CNS and reach the rest of the body.
The brain has several key parts: the medulla oblongata, the cerebellum, the cerebrum, the hypothalamus and the hippocampus.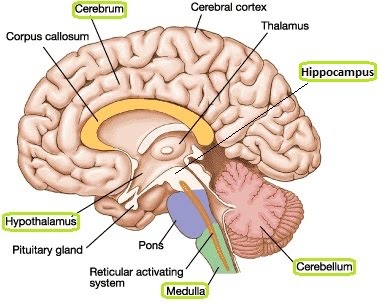 The cerebrum is the uppermost part of the brain that contains many different lobes that control various voluntary functions such as speech, movement and thought.
The hypothalamus includes the anterior pituitary gland, the master gland which secretes different hormones key in metabolism and reproduction, and functions in many systems to regulate sleep, hunger, parental attachment, etc. Its functions include temperature regulation and osmoregulation (blood homeostasis by the kidney).
The cerebellum ("little brain") controls how movement is executed, although not its initiation. This includes timing of movements, precision, coordination, fine movements and posture. It may also have functions in cognition such as attention and language.
The medulla oblongata is a key part of the brain whose function lies in controlling many autonomous functions including breathing, heart rate, vomiting, blood pressure control, coughing, sneezing and swallowing.