tRNA (Transfer RNA)
Protein synthesis
Transcription: DNA to mRNA
Splicing: pre-mRNA to mRNA
Translation: mRNA to tRNA
---
tRNA (Transfer RNA)
We know DNA is double-stranded and uses A, G, C and T bases, while mRNA is single-stranded and uses U instead of T. What about tRNA? Well, tRNA is a very different soup indeed.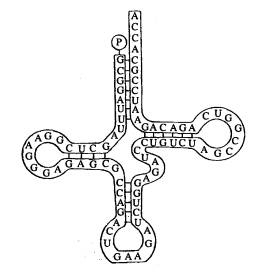 Clover-shaped
It's clover-shaped and uses the same bases as mRNA. It is single-stranded, and where one part of the strand meets another there are hydrogen bonds between bases just like in DNA except that in DNA there are 2 strands bonded rather than 2 parts of the same strand).
At the top of tRNA as seen above there is an amino acid binding site (P is seen as attached), while at the bottom there is an anticodon – in this case it's GAA. The anticodon is complementary to an mRNA codon (triplet code – in this case it would have to be CUU).
Protein synthesis
Proteins are made up of amino acids linked by peptide bonds, therefore a protein may be referred to as a polypeptide (of course, some proteins such as haemoglobin have extra bits to them). All are encoded for by the information stored in DNA. Let's see how exactly this happens.
Transcription: DNA to mRNA
In a process called transcription, mRNA is formed based on DNA. The bases on the coding strand of DNA are transcribed into a new molecule, mRNA, which is synthesised by the enzyme RNA polymerase.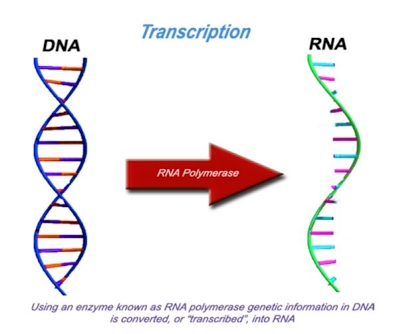 Wanna see more detail?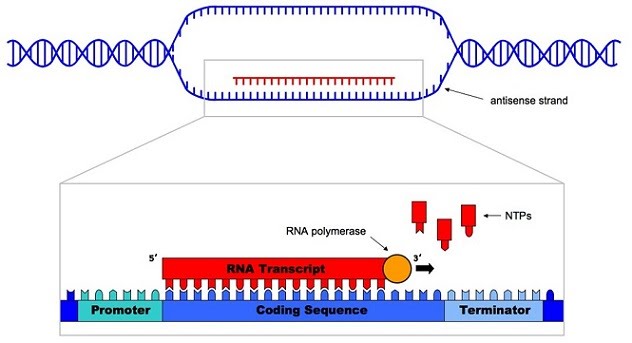 As you can see, the DNA double helix unwinds, RNA polymerase anneals to the coding strand and recruits freely available bases (A, U, C, G) to build…