Introduction
The retina
Rods and cones
Optic nerve
Photon receptors
---
Introduction
The eyeball is a magnificent contraption of brain tissue that protrudes during development to form said ball. It works to capture and process photons in light, and transmit the compressed information via the optic nerve to the visual cortex in the brain. This journey starts in the retina, which is the innermost layer at the back of the eye containing the light receptors and cells involved in this process.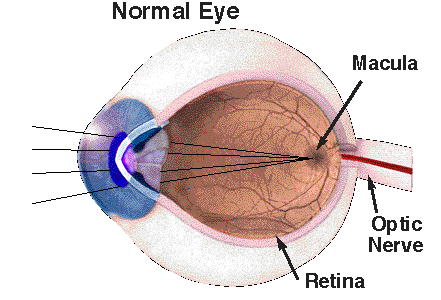 The retina
The retina lines the inside of the eyeball. The macula is the high-density photoreceptor area of the retina found towards the back of the eye. The structure of the retina, width-wise, contains several types of cell. These are interconnected one to the next towards the optic nerve side, as well as horizontally connected amongst them.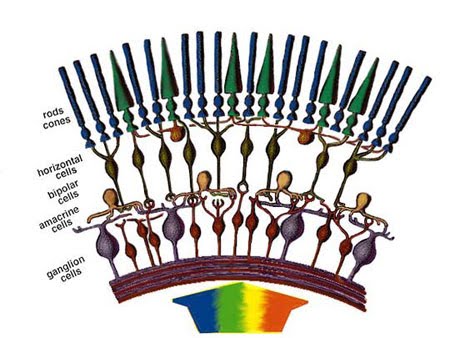 Rods and cones
Notice the "vertical" connections from the rods and cones to bipolar cells (lime) to ganglion cells (purple/red), as well as the "horizontal" connections from amacrine cells to multiple ganglion cells, and from horizontal cells to multiple rods and cones. The rainbow beam represents the entry and direction of light.
Optic nerves
The signals transmitted from the rods and cones travels down this pathway of multiple cells, as it is being processed before reaching the brain's visual cortex via the optic nerve. Some of these cells, such as the ganglion and amacrine cells, are able to generate action potentials, while the other only transmit them…