Gene cloning
Say we are interested in the gene for insulin. Sure, we could take it straight from people, but remember humans are eukaryotes and eukaryotes have non-coding sequences within their genes called introns. The mRNA following splicing, on the other hand, has no introns! How can we make DNA from mRNA?
Take this arbitrary bit of mRNA: UCCAUGCCAUUUGGG
If we had an enzyme which could reverse the transcription back into DNA, this time intron-free, that would be great. We do – it's called reverse transcriptase and it produces DNA. This special case of DNA is called complementary DNA – cDNA.
cDNA via reverse transcriptase: AGGTACGGTAAACCC (remember that DNA unlike mRNA is double-stranded; not shown for simplicity)
If we wanted the portion after the second G above, is there a way we could cut the DNA? It appears so. Some microorganisms have actually evolved enzymes whose job it is to invade a host and chop its DNA up at specific sequences. These enzymes are called restriction endonucleases. Each has its own short sequence which it recognises. There is a restriction endonuclease called CviQI which has the recognition site GTAC and cuts between G and T. That fits our bill!
The other DNA strand will also have a GTAC site read in the opposite direction. Notice that the complementary sequence of GTAC backwards (starting from the C) is… GTAC! This is called a palindrome and all restriction endonucleases will have one simply by the virtue of DNA bases being complementary.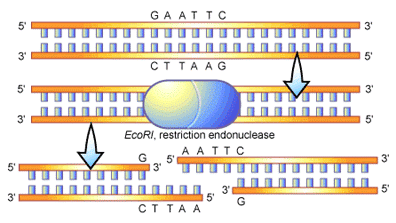 DNA samples can be amplified by PCR to make more of it, before further processing in experiments or applications. Larger fragments of DNA can be amplified directly in bacteria, as they grow quickly and are easy to handle.
In vivo (inside a living organism) gene cloning involves stimulating bacteria to take up target DNA by inserting it in a circular bit of DNA they normally carry beside their "main" DNA, called a plasmid. This is often transferred horizontally between bacteria, and always passed down through the generations. Target DNA may be inserted in plasmids via PCR when restriction endonuclease leave sticky ends which can be joined back with the aid of the enzyme DNA ligase which catalyses the reaction between the sugar-phosphate groups to form phosphodiester bonds.

Plasmids also contain an antibiotic resistance gene which, if taken up successfully by bacteria, will enable their growth on a medium containing that antibiotic. This allows the selection of only bacteria which have taken up the plasmid (vector), and with it our DNA of interest.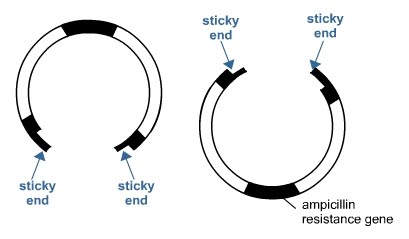 The host cells (bacteria) can now be grown on a large scale. They will express the new DNA in the plasmid, and pass it on to their offspring cells to do the same. Shortly, there will be a massive number of bacteria producing whatever the gene of interest codes for. This could be human insulin.
The product can then be isolated and used. It is in a pure form and is in fact being used worldwide to treat Type I diabetes. This breakthrough enabled better management of the condition which had previously been treated with non-human insulin which had side effects.
Gene delivery
Delivering DNA into cells for various purposes can be achieved via viruses which naturally can infect certain cells, as well as gene guns (biolistics) for plants.
Gene therapy involves inserting a functional gene into a patient who lacks it, or needs supplementary support. This works for conditions which are caused by a single faulty gene rather than multiple genes. The vector used to deliver the gene is a harmless virus. Once the new DNA is taken up in the cell nucleus, the gene is expressed like any other gene.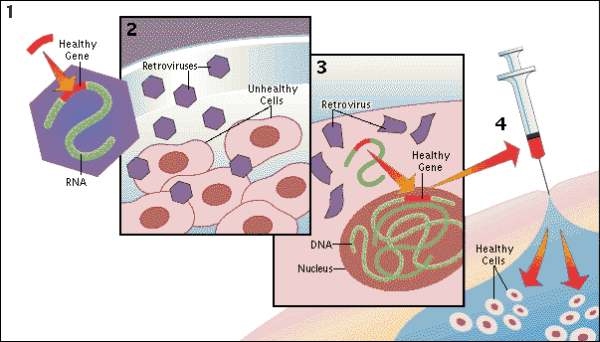 One problem associated with gene therapy is the immune reaction the body has to the virus. This may cause inflammation and other potentially serious side effects. Another issue is that of maintaining the effects of the healthy gene inserted into target cells. If these are recycled quickly or don't pass on the new gene to their offspring cells, then the therapeutic effect stops there, and the case is that multiple rounds of gene therapy must be administered.
Conditions currently treated with gene therapy include: cystic fibrosis, haemophilia, Parkinson's disease, muscular dystrophy, sickle cell anaemia among many others. One particular drug in gene therapy, Glybera, is famous for being the most expensive drug in the world at $1.6 million per patient.
Delivering DNA to plants via gene guns involves firing tiny metal pellets covered with DNA into plant cells.
Once inside the cell, the DNA delivered will be transcribed and translated by cell machinery. The protein encoded by the DNA depends on the gene included. This varies by application.
Gene technology in research and agriculture
Knockout mice
Gene tech is used in research by creating specific mouse models. By removing a certain gene, or including another, mice are bred to present particular things. Researchers can buy diabetic mice, mice that will get heart disease, high blood pressure, hairless, albino, muscular dystrophy, you name it. If it sounds disgusting and dystopic, it's because it is, especially as most of this type of research bears no fruit.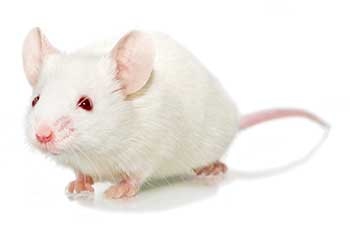 Regarding this mouse: "The CIEA NOG mouse® was developed by Mamoru Ito of the Central Institute for Experimental Animals (CIEA) in Japan". The mouse is branded and marketed as an iPhone.
By using knockout mice, researchers aim to discover the impact of certain genes on disease, behaviour, function, etc. This is achieved by comparing experimental outcomes of control mice with knockout mice.
Super soya beans
The first genetically modified (GM) soya beans were introduced by Monsanto in 1994. They now occupy the majority of soya land.
The applications of this technology focused on increasing the yield of soya beans at as low a cost as possible. In time, it became apparent that various other elements could also be improved, as the use of soya spans many different products. The soya beans could be made healthier and more valuable by adding several genes foreign to itself, from bacteria and other plants (Roundup Ready Soybean). These can be delivered using a gene gun.




DuPont Pioneer is a company that developed a GM soya bean that makes the resulting soya oil more valuable. Naturally, the soya oil is very susceptible to oxidation and hence making the oil rancid. By silencing or knocking out the delta 9 and delta 12 desaturase enzymes, they made a soya bean with an altered fatty acid composition high in oleic acid and stearic acid, and low in linolenic acid. This different fatty acid profile makes it less susceptible to oxidation.
Although the scientific community has concluded that GM food is equally safe to eat as non-GM food (as tested individually for each new GM food to be marketed), public opinion is still relatively against it. GM food sparked a big debate around its advantages and disadvantages to big agriculture companies, consumers, scientists, farmers and others.
On one hand, GM food improves yield and the overall value extracted from crops. This is significant to the economy as well as areas where people struggle to have enough food to eat. Companies that develop GM food sell seeds and get to make large profits which can be used to further research GM food.
On the other hand, patenting food raises issues for small farmers in developing countries, as well as other ethical concerns of big companies owning the food source of the world. Suspicious consumers also don't fully trust GM food, so may choose to avoid it in favour of non-GM food.
These concerns that affect multiple parties constantly vie for attention, and form the dynamic of attempting to accomplish balance in this debate.
Ok byeeeeeeeeeeeeeeee