Any 2 given people share 99.9% of their DNA code. But the differences present in the remaining 0.01% of it are enough to enable reliable identification, with the exception of monozygotic twins. The DNA containing this is called variable number tandem repeats (VNTRs) because they are just sequences of DNA repeated many times.
Aside from genes, or coding DNA, there are non-coding regions which repeat themselves many times over in each individual, with some sequences contained within varying. This variability is less in closely related individuals. This is where the usefulness of genetic fingerprinting comes in. This covers medicine, criminology and biodiversity conservation among other things.
Technique


1. The sample DNA undergoes PCR then cleavage at multiple sites with restriction endonucleases
2. The resulting many small fragments are tagged using a radioactive molecule
3. They're separated using gel electrophoresis and viewed using a developed photographic film


Result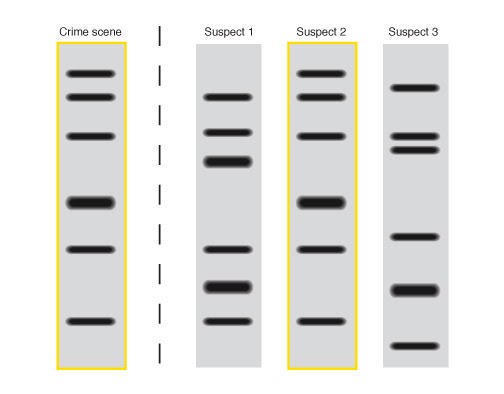 The bands exposed then undergo simple visual analysis by matching up the template DNA with other DNA that could be similar more or less, depending on situation. Above, the DNA found at a crime scene is compared with that of 3 suspects. The bands of suspect 2 are perfectly aligned with the crime scene DNA.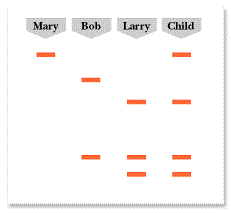 In the case of paternity tests, the child's DNA fragments do not completely match their father's, because some will be from the mother. Here, only the remaining fragments (the ones not from the mother) are matched up against potential fathers.
Mary, the mother, and the child share the first fragment; so looking at the remaining fragments of the child, Larry is the father as they share 3/3 fragments. Bob and the child only share 1/3.